Press release - International interest in Olofsfors Pink Track
3 May 2019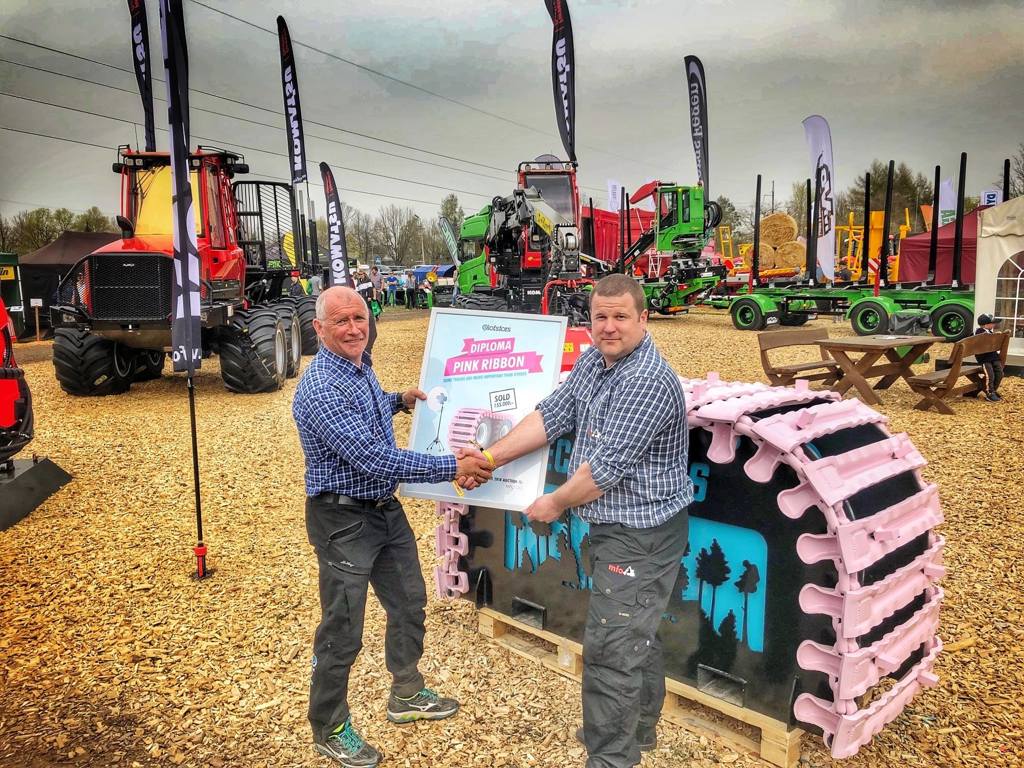 The 2018 pink track aroused great interest at the fair in Estonia where the track has been shown. MFO OÛ, the winner of the latest auction, wanted to create an international interest and commitment to support cancer research. They have thus sold the track on with the goal of donating the entire sum again to cancer research in Estonia.
- We think this is a fantastic initiative by Olofsfors and a unique opportunity for us to do something for cancer research in Estonia as well, says Indrek Reisenbuk, CEO of MFO OÜ.

- We will sell the track on and donate the money to some type of cancer research, Reisenbuk says during the first day of the fair.

The track that was auctioned off is an Olofsors CoverX band, a band that fits their conditions perfectly and meets the need for bearing capacity with little ground impact, says Kjell-Erik Åström, Regional Manager band, for Olofsfors forest which has been in place throughout the fair.
Maamess is the largest forestry and agriculture fair in Estonia with between 45,000-50,000 visitors in three days.

- The interest that the track has received in Estonia is beyond all expectations, says Åström. TV 3 and local TV have been on site and done reports and many have taken pictures, Åström continues.

Olofsfors, the leading manufacturer of forest machine tracks in the world, has since 2010 auctioned off a pair of pink tracks for the benefit of breast cancer research. Nearly SEK 800,000 has been collected since the start.

- That we have now managed to raise this abroad as well, got more people involved for this important purpose, feels fantastically fun, says Åström.
Before the fair was over on the last day, MFO OÜ had sold the track on to the entrepreneur Olav Arus at the company Valma Saeveski OÜ. The customer, who has three harvesters and eight forwarders, is active in both Estonia and Sweden, bought the track for personal reasons.
- It is important for me personally to support cancer research. My mother died of cancer three years ago, says Olav Arus.
The track was sold for 9,000 euros and MFO OÜ will donate this money in full to the foundation "The gift of life", whose main task is to support cancer patients financially. This can be in the form of modern medicines or treatments for families who cannot afford it themselves. The foundation was created through the founder's own fight against cancer, to give the sick hope and an opportunity for a longer life.


Read more about the pink track auction: https://www.olofsfors.se/nyheter/pressmeddelande-rekordbelopp-foer-olofsfors-till-cancerforskning

Read more about "The gift of life": https://kingitudelu.ee/en

Olofsfors AB has 146 employees and the company works with sales and manufacturing in two business areas: Tracks and chains for rubber-bearing machines and wear steel for construction machines. Customers are found in almost every continent. The head office is established in Olofsfors in Nordmaling municipality and production also takes place here. The company is Nordmaling municipality's largest private employer with a turnover of just over SEK 400 million. Olofsfors' core values are: Knowledge, Quality and Sustainability.

Olofsfors AB - Main office
Phone: +46 (0) 930-396 00
E-mail: info@olofsfors.se
Address: Olofsfors AB - Main office
Olofsfors 11
SE-914 91 Nordmaling, SE
Map
Looking for a contact person?