Press release: Meaningful commitment from the forest industry
28 September 2021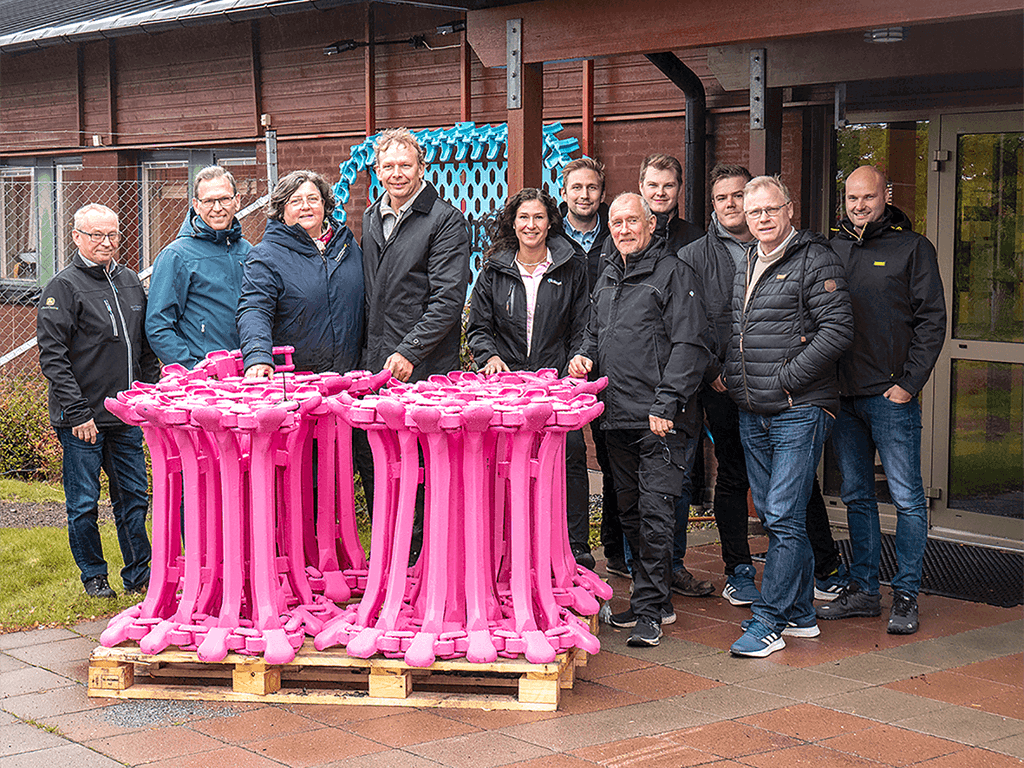 Meaningful commitment from the forest industry
"Nowadays everyone can participate, and all the sums are counted, big and small" says Kjell-Erik Åström, Sales and Marketing Manager at Olofsfors.
Since 2010, companies in the forest industry have contributed 1 166 000 Swedish Kronor (SEK) to cancer research, through Olofsfors' "Pink Ribbon" Track fundraiser. The money is spent on more breast cancer research, as well as current patients, survivors, and their families. In September of 2020, ten of the companies that together donated 223 000 SEK in visited Olofsfors:

– "Good idea and an important purpose. We contributed to both the Pink Ribbon and Mustache Fight, that Cranab launched in favor of prostate cancer. A worthy effort", says Roger Rooth from Rooth Skogsvård AB.
– "I have followed all of Olofsfors Pink Ribbon fundraisers and have contributed since Olofsfors made it possible for everyone to participate. That last year I was lucky enough to get the 11th Pink Ribbon, which was of course gratifying. The tracks will clearly stand out, and I feel proud", says Jörgen Westerlund at RW Skogsmaskiner AB.
Every hour a woman gets the news about breast cancer
Media have reported that the number of breast cancer detected, decreased during the pandemic year 2020. But even during the pandemic year, 8,000 women and 60 men in Sweden alone were told they had breast cancer, and as many will be told this year. (Source: Breast Cancer Association, © 2021).
– "The vast majority of us have faced the disease, either as a survivor or relative. The money collected through our fundraiser contributes to breast cancer research and support for patients and loved ones", says Maria Öhman, Marketing Manager at Olofsfors.
– "The breast cancer association is Sweden's only association that always focuses solely on breast cancer. To achieve our vision that no one should suffer from breast cancer, we fund research, disseminate knowledge about prevention and drive advocacy in breast cancer issues. We are extremely happy and grateful that Olofsfors, year after year, is working with us to fight breast cancer. Together we can do more for more", says Marit Jenset Secretary General of the Breast Cancer Association.
Hope for new records in 2021
Olofsfors has created its own fundraising page at the Breast Cancer Association where everyone can donate any amount. They have also donated a pink forest machine track to the Breast Cancer Association, which after completion of the fundraiser, will be given to a person or a company that donated a gift of 5000 SEK or more.

– "With common forces and commitment, we save lives. If we as a company can help to disseminate information and through our collection contribute to more people getting help, we obviously want to do so. With the opportunity for everyone to join, we hope for another record", concludes Kjell-Erik Åström.


About the collection:
To read more about how to donate money through Olofsfors "Pink Ribbon" Track fundraiser, go to www.olofsfors.com/pinkribbon
For questions or more information, please contact:

Kjell-Erik Åström
Sales- and Marketing Manager, Forest business area
Phone: +46 (70)0-323 97 10
E-mail: kjell-erik.astrom@olofsfors.se

Maria Öhman
Marketing Manager
Phone: +46 (0)930-397 01
E-mail: maria.ohman@olofsfors.se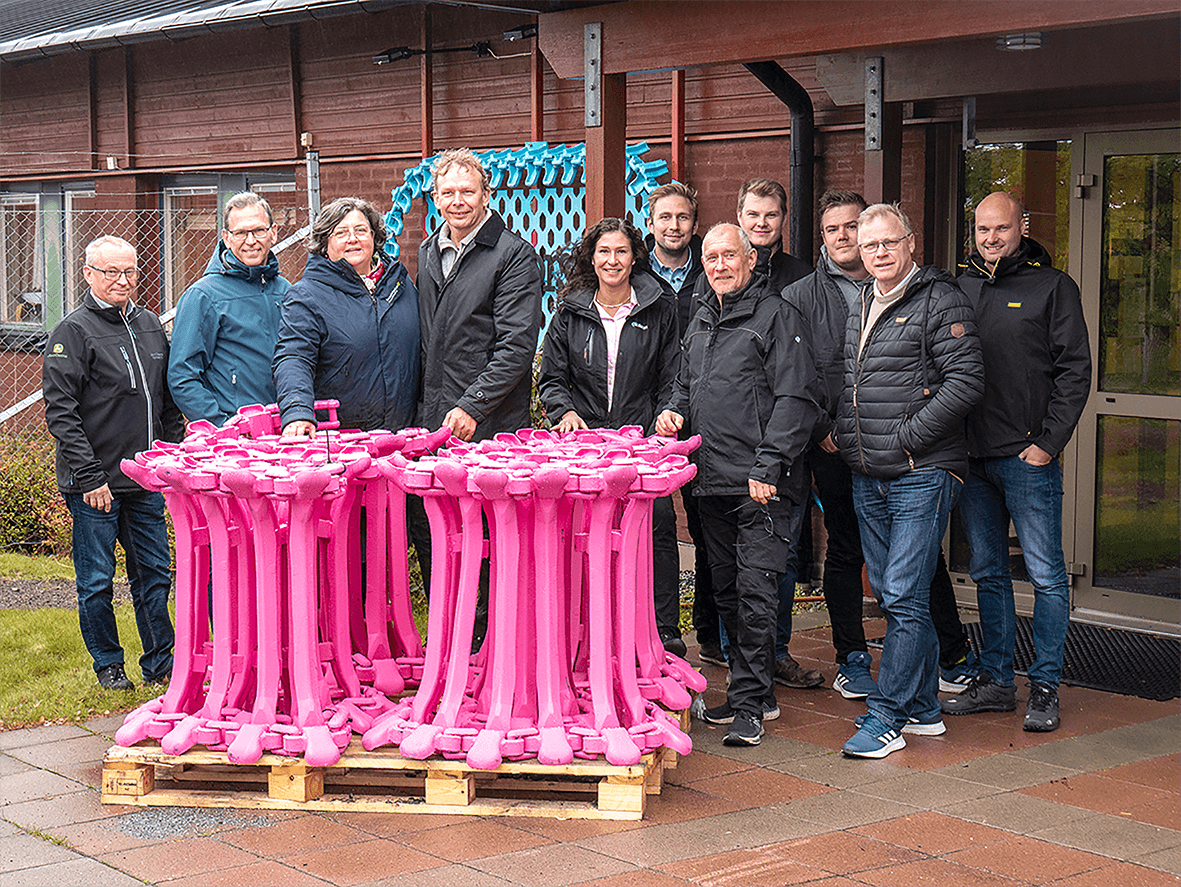 From the left;
Ronnie and Roger Rooth at Rooth Skogsvård AB, Karin and Jörgen Westerlund at RW Skogsmaskiner AB, Maria Öhman, Jonas Persson and Kjell-Erik Åström at Olofsfors AB, Per Johansson and Fredrik Gustafsson at Sonö Jord & Skog AB, Sven and Aron Westerberg at Österby Gallring AB.
Olofsfors AB has about 140 employees, and the company work with sales and manufacturing in two business areas: Tracks and Chains for forest machines and wear steel for construction machinery. Customers are found in almost every continent. The head office is in Olofsfors, in the municipality of Nordmaling and production also takes place here. The company has a turnover of approximately 400 million SEK. Olofsfors' core values ​​are: Knowledge, Quality and Sustainability.
Olofsfors AB - Main office
Phone: +46 (0) 930-396 00
E-mail: info@olofsfors.se
Address: Olofsfors AB - Main office
Olofsfors 11
SE-914 91 Nordmaling, SE
Map
Looking for a contact person?