Successful companies are fighting for the title of Entrepreneur of the year
24 November 2020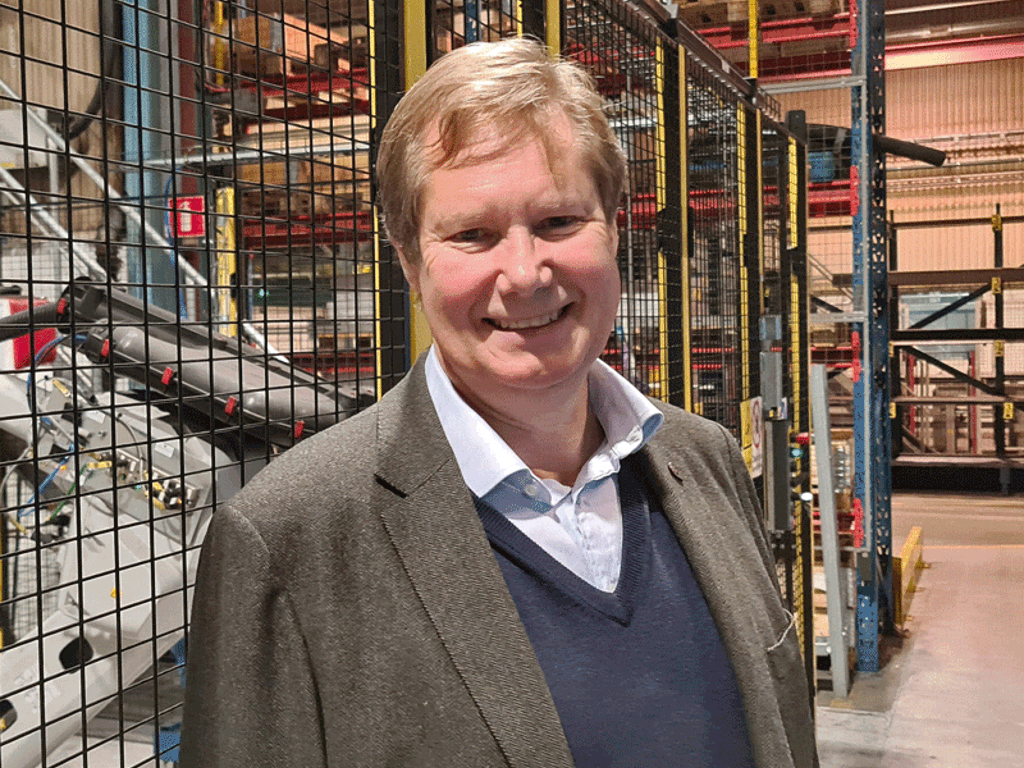 Olofsfors AB can proudly announce that Anders Wikström; owner of the Olofsfors group, Iggesund Forest, Alab / Aluman and Grader Service, is one of this year's finalists in EY Entrepreneur of the Year, region north.
Ten successful companies in northern Sweden have the chance to be praised at the regional final by EY Entrepreneur Of The Year. It is one of the world's foremost entrepreneurial awards, where entrepreneurs from around 60 countries compete for the title of the world's foremost entrepreneur. The companies that have managed to reach the finals have created both growth and history, through innovative visions, clear values and social responsibility.
- This is proof that our owner invests and believes in what we do in Olofsfors. Anders is unique in that he invests large resources here in the north. He makes a strong contribution to the development of the entire group through a very fine commitment and entrepreneurship. He is therefore worthy of the nomination and also a worthy winner, says Göran Nyberg, CEO of Olofsfors.
The digital regional final kicks off on November 26 at 19:30 and Anders Wikström has the opportunity to win the regional title and also take a place in the national final in Stockholm.
The winner represents Sweden in the EY World Entrepreneur Of The Year.

- It feels great that Olofsfors / P. Wikström J: r has been nominated again this year. The last time was 2012 and then we received the award "Best international growth". We will see if we reach all the way this time, says Anders Wikström.

The purpose of EY Entrepreneur Of The Year is to pay tribute to successful entrepreneurs and increase interest in entrepreneurship in Sweden.

The finalists have been selected by an independent jury that has examined the entrepreneurs based on the award's six criteria, entrepreneurial spirit, economic development, strategic focus, impact on the outside world, innovation, personal integrity and influence.
The following contractors are fighting for the title:
Anders Wikström, Olofsfors AB (P. Wikström J:r AB), Nordmaling, (olofsfors.se)
Anna-Lena Wiklund Rippert och Johan Wiklund, c/o Gerd (Nature Cosmetic Group of Swedish Lapland AB), Jokkmokk, (careofgerd.se)
Gustav Essebro, TK Botnia (Träkonstruktion Botnia AB), Burträsk och Umeå, (tkbotnia.se)
Jan-Erik Hansson, Vallens gård (Snaten Lantbruk AB), Ljusdal  
Jonas Hellström, Microgroup Europe AB, Örnsköldsvik, (microgroup.se)
Kjell Jonsson, Extendo AB, Fjärila, (exte.se)
Mikael Sandberg, VNext AB, Umeå, (vx.se)
Måns Hegevall and Rasmus Molund, Sqrtn Company AB, Östersund, (sqrtncompany.com)
Ralf Eriksson och Tony Eriksson, GE Maskintjänst (Göran Eriksson Maskintjänst AB), Gällivare, (maskintjänst.com)
Sara Stenlund, Boporten (SAR in Umeå Holding AB), Umeå, (boporten.se)

We keep our fingers crossed and wish our fantastic owner BIG Good Luck!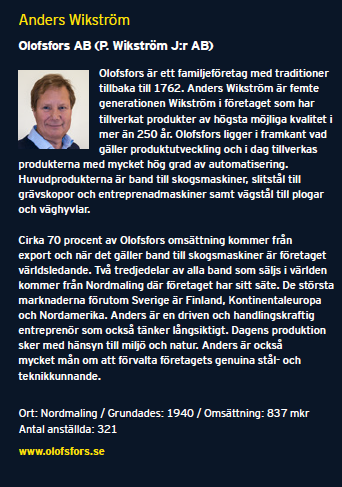 Read more:
https://www.ey.com/sv_se/news/2020-press-releases/11/nu-ska-norrlands-framsta-entreprenor-koras

Watch the regional final live, Thursday 26 November at 19:30
https://www.lepacte.se/eoy2020/ 


Questions or for more information, please contact:
Maria Öhman
Marketing manager
Phone: +46 (0)930-397 01
E-mail: maria.ohman@olofsfors.se

Anders Wikström
Phone: +46 (0)70-654 44 11
E-mail: anders.wikstrom@olofsfors.se

Olofsfors AB has about 140 employees and the company works with sales and manufacturing in two business areas: Belt and slip protection for rubber-bearing machines and wear steel for construction machines. Customers are found in almost every continent. The head office is established in Olofsfors in Nordmaling municipality and production also takes place here. The company has a turnover of approximately SEK 400 million. Olofsfors' core values are: Knowledge, Quality and Sustainability.
Olofsfors AB - Main office
Phone: +46 (0) 930-396 00
E-mail: info@olofsfors.se
Address: Olofsfors AB - Main office
Olofsfors 11
SE-914 91 Nordmaling, SE
Map
Looking for a contact person?