CoverB
A new load-bearing track, with better grip and bearing capacity for wet and sensitive soils. Thanks to its design and shape, the track fits firmly on the tires. Suitable for driving on rice beds and protects soil and roots.
Read more
CoverX 180 - for extremely wet and sensitive soils
The track with maximum flotation capacity, minimal ground impact and optimal grip against the tires.
Read more
New tensioner - Center mounting tool
Four times faster than the old, manual tool. 200% more traction (3 tons). Interchangeable claws. One clone is the same as the exchanged one. Center-mounted drawbar.
Go to product
New link system
Olofsfors can now offer a 29 mm linkage system for your track. That means 37% more to wear and increased wear time.
Read more
The next generation of chains are here
Olofsfors PRO-GRIP™ is a profitable option for you who want a greater grip and less ground destruction. We have now expanded our range of chain options with Olofsfors Pro Grip-U, F, SF, G and RC.
Go to products
Download price list
Want to know more about our products? Download our price list with all of our tracks. Available as a PDF file or Excel file. Or contact us for more information regarding our products. *** NOTE! The price list is being updated and cannot be downloaded at the moment ***
Gentle on the ground means profit for you
A forest machine track creates a protective layer between the machine and the soil, to reduce mesh damage and tire wear. A forest track from Olofsfors can both lower your fuel consumption and improve your driving experience as the machine makes its way easier with more stability through the terrain. All to increase your profitability and leave minor soil damages.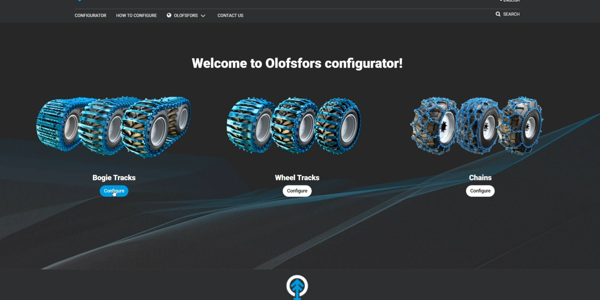 Track configurator
Through our configurator, we have made it easier for you to choose the right track.
Document library
Find supporting manuals, catalogues and instructions in the library.
Go to library
Video library
Find instructional videos, and to learn about our products, visit the library.
Go to library
Contact us
If you have any questions or want to place an order, please contact our offices. 
Contact us
Olofsfors AB - Main office
Phone: +46 (0) 930-396 00
E-mail: info@olofsfors.se
Address: Olofsfors AB - Main office
Olofsfors 11
SE-914 91 Nordmaling, SE
Map
Looking for a contact person?